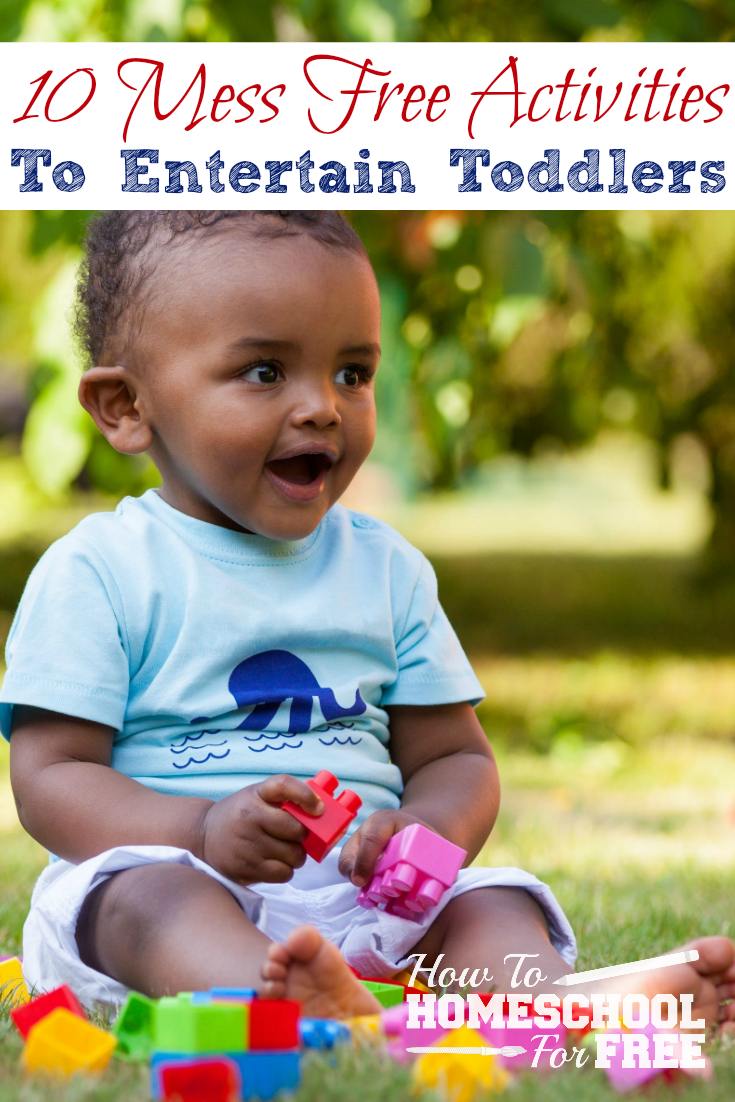 This article was first published in 2013 but I wanted to repost as it's a topic that is always relevant. I hope this post helps some of you with good ideas on keeping your little ones busy!
We've been talking a lot on the How To Homeschool For Free Facebook page about how in the world we keep 1 and 2 year olds occupied while we get school done with the older kids.
It was so much easier when I just had little ones and could play with them all morning until nap time. We would go see friends, go to the park, look through books… and I still do these to some extent with my little ones.
But now I also have a 5th grader and a 2nd grader, and both of them still need a lot of individual instruction throughout the day. It definitely makes it more of a challenge to keep the little ones (5 and 2) occupied with fun activities while I have instruction time with the older ones.
Now, we could just try to get ALL of the instruction done during my 2 year old's nap time (thankfully he still takes a nap each afternoon!) but we all do better when we get the majority of our schoolwork done in the mornings and the older kids can use the afternoons to pursue things that they are interested in without the 2 year old coming in behind them and messing up their work.
So I have been on the hunt for activities that my 2 year old (and to some extend my 5 year old) can do that don't make a MESS! There are plenty of activities that he would have a blast doing but that would end up taking the rest of us hours to clean up.
I see activities like that on Pinterest all the time. Moving beans/rice from one container to the other? Um… yeah that didn't work out so well in our house. Stringing beads? They ended up all over the floor/under couches/we will be finding beads until we move! Cornstarch and water? It was fun, but ended up everywhere too!
Anyone else in the same boat?
Hopefully these activities will help you as much as they have helped me!
I take off everything except the diaper for my 2 year old and my 5 year old gets one of my "painting shirts" and I give them watercolors, a little water, and paintbrushes. The great thing about this activity is that since it's watercolor paint, cleanup is just rinsing the tub down with water from the shower head!
2. Signing Time
Signing Time has been a staple video in our house for the past 10 years! My mother in law bought us the first six DVDs a while back and they are the most well-used DVDs in the house. I don't like to use TV as an activity very often, but when I do, Signing Time is always my first choice for the little ones (the bigger ones really enjoy Magic School Bus and Carmen Sandiego)!
Notice that I said OUTSIDE. I've tried the bubble machine inside… and it doesn't qualify as mess-free. Bubbles will keep my little ones entertained for HOURS! We bought a sun canopy for the backyard and as long as it's not a windy day we can all do school under there and let the little ones play with the bubbles.
And yes, that's a professional bubble blower. It's double the price of the plastic kid-ones and is going to be one of my next purchases.
Regular crayons = LOTS of broken pieces and labels torn off everywhere. Twistable crayons = PEACE. Enough said. 🙂
I also love the color wonder markers that go with the color wonder paper, but I'm not a fan of the color wonder paints. I end up with globs of clear "paint" all over EVERYTHING.
What's easier than cleaning up water? Well, unless you let your 2 year old stand at the sink and "wash dishes" like I did earlier today… yeah, that one is definitely NOT a mess-free activity. But if you give them a little bit of water, a paintbrush, and a water painting book it's not bad at all (notice the emphasis on a *little bit* of water)!
6. Just Dance Disney
Does anyone else use Just Dance for PE? I'm really picky about the songs that I let the kids dance to on the adult Just Dance games (there's a reason it says 10+ which I think should be even higher), but I'm comfortable with almost all of them on Just Dance Disney and my 2 year old LOVES it. He brings me the Wii remote at various times throughout the day and begs me to turn it on so he can dance. What's nice is that you can set it to run through the different songs for a set amount of time. So if I want it to stay on for just 15 minutes then I can set it for 15 minutes and it will run through 15 minutes worth of songs.
7. Hammer golf tees into foam
Not with a *real* hammer, of course! Get a plastic hammer, some foam from a craft store, and a bag of colorful golf tees. They can hammer the golf tees into the foam over and over again! Then when they get tired of that, they can hammer the tees into the ground in the backyard. Just be sure not to use any green (or probably not black) tees when they do that so that you can easily get them out before you mow. 🙂
8. iPad/Tablet apps
We love our iPad. I guess I should say my 2 year old's iPad. It's *supposed* to be a family iPad but he's the one who typically ends up with it. I'm planning a whole post on my favorite iPad apps for 2 year olds, but here are a few of his favorites:
First Letters – you drag the matching letters to each other and then at the end they sing the ABC song.
First Words – you drag each letter to the right place to make the word.
9. Pack N Play ball pit
There's no need to buy an inflatable ball pit when you can just put a package of plastic balls in a Pack N Play and create your own! All of my kids have loved sitting in a pile of colored pastic. If you have two younger ones like I do then you can put the younger one in the Pack N Play with the balls and have them throw the balls out for the older one to run and get and put back into the Pack N Play.
What are your favorite mess-free activities for toddlers? Please share them with us in the comments below!
Disclosure: There are links in this post that are affiliate links because, well, it would be silly for me not to use affiliate links where I can. Affiliate commissions help to keep How To Homeschool For Free… FREE! 🙂