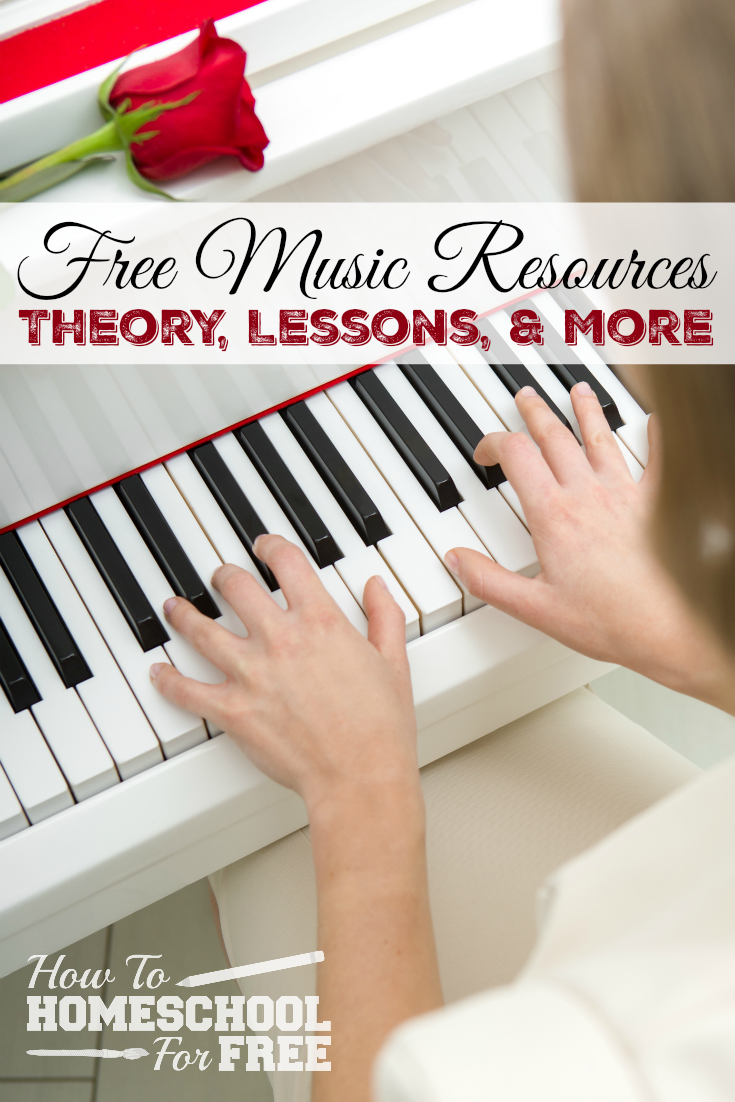 While I do think that a living, breathing, qualified music teacher is the best way to go for learning to play an instrument, sometimes that option is not available. Whether you are filling in the gaps between "real-life lessons" or trying to find out what musical interests your children have, hopefully you will find these links helpful.
Music Theory
Easy Music Theory This is no longer a free resource.
8Notes
8Notes has 46 lessons on music theory. The difference between this and the Easy Music Theory above is that these lessons don't appear to have the MIDI option or any sound involved in the lessons on music theory. The reason I included it here is that it also has a limited number of free lessons for a variety of instruments as well as some other helpful online tools.
Interactive Music Theory Drills
Joy over at Five J's was a piano teacher for many years and has compiled an extensive list of all of the free online interactive music theory drills. She has them grouped by category and the categories include: the Keyboard, Pitch, Rhythm, Scales, Key Signatures, Intervals, and Chords.
Piano
Zebra Keys
Zebra Keys offers over 50 lessons for free. The piano lessons are accompanied by visual animations that allow learners to view and hear songs, as well as play along with the animations on their own piano keyboard. There are lessons for all skill levels, not just beginners.
Go Piano
The Go Piano lessons are for both the beginning piano student and the student who wants to review skills. These lessons include audio instruction that you control and repeat the lesson as many times as you want.
Piano Nanny
Piano Nanny has received many awards and has been featured on the NBC Nightly News, CNN, and in WebMaster (now CIO) Magazine. As you read through the lessons, you can click on "12 Note Companion." It is a pop-up window that brings up a keyboard with a 12 note range that is useful to the lesson. It is interactive and you can play the notes by clicking on the virtual keys.
Other Instruments
Flute Lessons
eHow been one of my "go-to" websites for years for various things I want to learn. I've learned some of my baking skills on this website and have been very pleased with the quality. For learning to play the flute, check out ehow's flute lessons. These 16 online video lessons include basic techniques and tips for beginners on buying and caring for a flute, embouchure, scales and more.
Drum Lessons
FreeDrumLessons.com has lessons for taking drumming seriously. Hand exercises to increase speed & accuracy are just a few of the lesson topics.
Guitar Lessons
Free Guitar Videos has lessons are neatly organized in easy-to-see lists. There are 6 different instructors who have videos here. Once you master the beginner's free videos, you can pay to become a premium member for additional instruction.
Younger Kids
If your student is a bit too young for all of that, but you still wish to introduce music skills, try these fun links that expose your child to music.