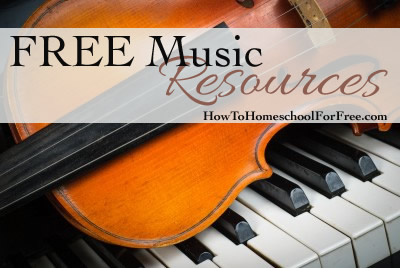 Whether you want to supplement the music lessons that you pay for, add on some basic skills for a new instrument, or attempt to completely learn an instrument without taking lessons, there are a ton of great FREE music resources available for you! In addition to the online resources on our Music page, I highly recommend checking out what your local library has to offer.
I wish I would have been pushed to learn more about music theory growing up! I learned how to read piano music but came out with very little knowledge of how to make sense of music without the notes in front of me.
Our plan is to continue with piano and drums on our own (I'm teaching those with some online help), and add in guitar in a couple of years. Our oldest has expressed some interest in the fiddle, and if that interest continues then that's one that we will actually pay for lessons for! 🙂
You can easily find the free music resources page anytime from the navigation bar above when you hover your mouse over the word "Electives".