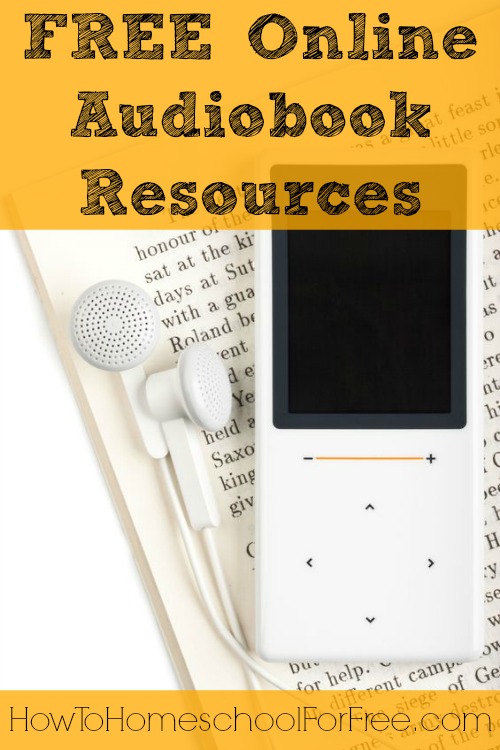 Listening to audio books can improve reading skills and struggling readers might be able to read along with an unabridged audio version of a book to help fluency and build confidence in reading a story. I have always been a good reader, and yet I remember falling asleep to those "Long-Playing-records" with my record player that automatically shut off at the end of the story. (Yes, I'm that old..) One of my daughters fell in love with audio books and loves listening to them to fall asleep to every now and then. One of her favorite things is actually the old radio show, Father Knows Best. I tried to include all kinds of audio book references here. They are not all British, nor are they all public domain books and I think you'll find something here to enjoy. Also remember that your local library is a fabulous resource for audiobooks on CD that you can take along on your road trip, too. Just don't lose them or the fine will be ridiculous… ask me how I know! Enjoy! 🙂
LibriVox is probably the most popular of free audio book sites. Volunteers at LibriVox record chapters of books in the public domain and release the audio files back onto the net. It is non-commercial, non-profit and ad-free. If you are also interested in reading a book from the public domain and recording it, you may submit it to them. Their goal is to have audio for every book in the public domain. There is a section with Children's Literature, but it hasn't been updated in a while. You can still search for specific titles if the one you want isn't there.
Online Audio Stories offers many free audio stories for children. You can even download their Stories Aloud app for story reading on the go. You can choose from poems, fairy tales, classics, and more.
Storynory has published an audio story every week since November 2005. The stories are listened to by families, and in schools, nurseries and hospitals the world over. You can download the mp3 file and transfer it to your favorite listening device. All our stories are beautifully read by professional actors and recorded in broadcast quality sound. All of their stories and audio books come with a full English text.
Kiddie Records allows you to download or stream classic stories and songs from old vinyl records! These are the stories I remember listening to at my Nana's house. The original Winnie the Pooh Songs is one I know I heard and fell in love with as a child. I can't believe these are free! Many of these are read by the celebrities at the time they were made. Even if you don't use these for school, you might want to listen to them on road trips this summer!
Books Should Be Free is a great site for finding classic audio books. I was able to easily download a few books via iTunes and transfer the to my ipod without any trouble. The books will downloaded as a podcast, so when you go to look for it in your iTunes library, look there first.
My Audio School was created to be an aid for dyslexic students. It has proven to be enjoyable to students of all ages and abilities. My Audio School offers a large number of free audiobooks. There is a paid version, but I think the free titles could keep you busy for a long time!
Robert Munsch is one of my favorite authors. His books are funny and my kids have always enjoyed them. (One of them even makes me cry – Love you Forever.) These are available with streaming audio or by download. If listening online, you can't back up or pause, so you have to start over every time you want to go back.
Storyline Online is not the usual audio book website. Choices are limited, but it is all presented in a fun video with a celebrity reading the book. The video link goes to a YouTube video that shows the pictures in the book as well as clips of the celebrity reading it. I found that the books have fun activity guides to download and print if you want to make lessons out of reading time.