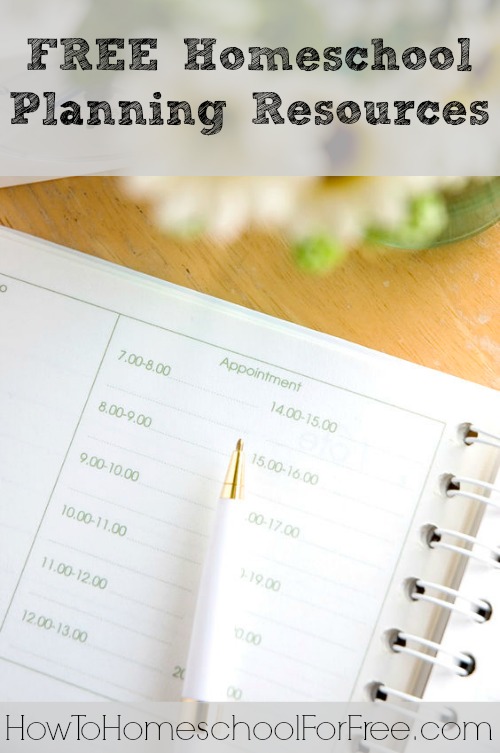 In my opinion, one of the best things you can do for finding peace of mind about your homeschool choices is to set goals and write them down. I've had years when I didn't keep track of any thing (gasp!) and years when I had daily checklist. My children learned though all of those years, in spite of my organizational skills, or lack of them. I do know, though, that my own peace of mind during the years that I planned things out were the least stressful for me. This past year, I bought a planner that everyone was raving about. I spent too much money on it for how often I use it. I tend to do most of my planning online, so I rarely get it out.
Before you buy an expensive planner, I suggest trying one of these free planner links below! You can make it fancy with a personalized scrapbook-like cover and get it laminated and spiral bound at an office supply store. Maybe you would rather put it in a 3-ring binder. The great thing about these planners is that you can put them in the format that works for YOU! You might opt for the online planners that are available instead. Whatever you want to do, here are some free choices.
Joy over at Five J's, has several helpful resources for planning out your year. Here is a Weekly Assignment Planner and a gradebook for free download. Check out more of her homeschool planning posts here, including a great post for Home School Inc, which is worth the time to check out. You'll definitely want to print out anything that Joy made herself – she is an excellent graphic designer!!
Homeschool Skedtrack is a free online lesson planner, scheduler, and tracking system rolled into one. One of the main features is their automated scheduling of activities. If you miss an activity, Skedtrack frees you from the headache of rescheduling everything. I think this is something worth paying for, but it is FREE! It meets so many needs in one place. You can keep track of high school transcripts, courses, grades (by automated calculations!) and so many other things. You really need to check it out if online planning is for you.
Donna Young doesn't just give you printable forms, she has numerous tips and advice on how to plan, how to use a planner, and how to assemble her free planner pages to make it useful to you. I have mentioned DonnaYoung.org several times now in this series of How to Homeschool for Free. This site has an incredible array of forms and other necessary things for the home school family. I love Donna Young! I use it all the time, year round for more than my homeschool needs.
Highland Heritage HomeSchool has two sections where you can find planning forms. The first is the teacher planning section. It has schedules, calendars, attendance, grade logs, report cards, conference records, co-op planners, lap book rubrics, and many more things for your planner. Print the ones you will use and leave the rest. The second section you will find useful is the Student Portfolio forms. It has checklists of things you can plan to assess and record in the student folders. I also found a student self-evaluation form that I think I might use for my kids.
Homeschool Launch is a free, file-sharing community. It is not just about planners, but I was very pleased to find a huge amount of planning choices. These are pages that actual moms and dads have created for themselves and have shared this in this forum. I saw planning pages for block scheduling, Charlotte Mason planning, Heart of Dakota plans, and so many more that I cannot possible list them all here. You do have to register to view and download files. You may also share your own once you are a member, since that is the service the site is designed to provide.
The Homeschool Mom is a go-to for any home schooling mom for advice and help. The planning pages are thoroughly comprised and will meet the needs of many home school moms. It is free for personal use. Weekly planner and menu planner pages include FlyLady compatible weekly and menu planner pages, Calendars, High School Course Planner, Chore chart, Weekly Planner page for use with Weekly Assignment page or Unschooling Record Keeper, Assignment Sheet, Reading List, and several more choices for your planning pleasure.
Homeschool Tracker is Microsoft Windows-based planning and organizing software designed to track your lesson planning and records. With the free, basic version, you can keep track of field trips, grades, assignments, and attendance. It allows you to generate report cards, and a few more things. The PLUS version is the one that is not free, but it does have more features than the free version, as you would expect. It will not work on Mac computers unless you have Windows Parallel.
New Beginnings has a free curriculum planner. The moms here will show you 7 steps to customizing your planner to suit your needs. It includes Lesson Plan Pages for ALL your children, Calendars, Attendance Charts, Class Schedule, and Teacher Schedule. Again, print the things you need and don't bother with the rest. I like how the moms here don't make you feel like you have to do it their way. Personalization is important and they tell you how to do it and make it work for you.
Happy Planning!
————————————————————————————————–
Don't forget to enter your email address in the box below so that you can get updates when new freebies are added!
Be sure to "Like" us on Facebook too!