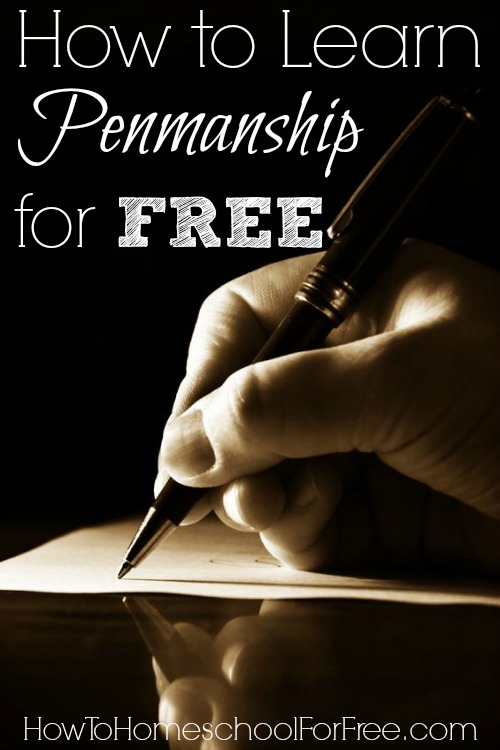 Penmanship can be stressful for some kids. But sometimes you might get lucky and have a student who sees it as an art form. Either way, these links have something to offer. Some of them have advice for lefties, which has been a big issue for one of my kids.
Joy at Five J's has a good run-down of why she likes IAMPETH for a free handwriting course. IAMPETH is not just penmanship, it is calligraphy! The website is quite comprehensive and interesting to those who like to browse artsy things.
The Logic of English™ is a systematic multi-sensory approach to learning how to read, spell and write. While the main curriculum is on the pricey side, the handwriting portion is free because it is still in the testing phases. I particularly liked how it is not just basic instructions and printout, but rather explains the process of cursive and compares it to manuscript. In their learning program, cursive is taught first. Maybe after reading their articles, you will feel the same.
The Writing Wizard works with Flash to create free handwriting practice worksheets customized just for your children in D'Nealian or Zaner-Bloser style, in either print or cursive form. You can choose to have a child write the same word to fill a sheet, or you can make multi- word sheets. These can be saved to your computer for your own use, or you can save & share online. You could create funny sayings to make your children giggle while they practice handwriting since it might not be as hard for them to write a customized joke or story as it is to write spelling words. I know I am going to try this with my sloppy-penmanship kids!
TLS books has 288 free printable handwriting practice worksheets from which to choose. There are some with themes and others with basic letter practice. You do not need to register for this website. Styles similar to Zaner-Bloser and D'Nealian are available.
Have I mentioned before how much I love Donna Young? She has put together manuscript handwriting lessons to accompany the book Teach Your Child to Read in 100 Easy Lessons. The set includes 133 handwriting worksheets, 14 word flash card printables, and 3 sets of letter cards. While the lessons are coordinated with the book, you may use the lessons even if you are not using the book. This website also has plenty of other handwriting and penmanship resources, including animation for letters. She's still working on some of the manuscript sets, but it looks like there is enough to get the hang of it all and get quite a bit accomplished.
Handwriting Worksheet Generator is a custom-made program for you to make the exact worksheet you want for your lessons. Make manuscript and handwriting practice worksheets using D'Nealian style letters just by typing your content and changing letter size, color and line color. The content appears in real-time as you type! There is no waiting until you click the SUBMIT button to see what the worksheet will look like. Worksheet designs are offered for a single word – a different word for each line – a full sentence for name practice – and even a cursive paragraph option.
Print a booklet for each letter with about.com's handwriting pages. There are 5 different printable handwriting worksheets for each letter in 2 styles of writing. The first five are Zaner Bloser style, the next five are D'Nealian style. If you print the handwriting worksheets and bind them together you can make a booklet. For younger kids, check out the Alphabet pages, too. They would make a great booklet as well.
Education.com helps make learning fun with all sorts of worksheets. You can do a general search for handwriting, or you can choose a topic and filter those who have handwriting practice to go along with it! It's a huge resources for so many subjects. You do have to register, but I did it by logging in with my facebook account. Easy Peasy!
abc teach has another custom worksheet generator. This one has pre-selected text choices for easy and quick printing. Customized pages are for members only, but the pre-selected text ones are free. This site has page choices for the Handwriting without Tears curriculum.
Home Education Resources is a paid-membership site, but their free section is quite useful for the purpose here. I was able to find several for different grade levels of penmanship pages, both manuscript and cursive. You might want to check out their other freebies, too, since they are, well… FREE. I found that some of the science experiments were very simple and could be done by students without too much help.
Guest Hollow has some very well-selected copywork printables for free. Copywork is an easy way for your child to get a little literature exposure, learn grammar and spelling, all while practicing handwriting. After you've been doing copy work for awhile, you can add dictation to your schedule. Printable copywork sheets are free to download here and are available in the following fonts: Zaner-Bloser style manuscript, D'Nealian style print, Zaner-Bloser style cursive, D'Nealian style cursive, Getty-Dubay style Italic print and cursive, and some limited sheets with the Handwriting Without Tears style cursive.
Simply Charlotte Mason is another website that has several copywork printables that are Hymns, Poetry, and Scripture –based. They also recommend a link to Worksheet Works where you can type a longer passage for your child's copywork for printing. This program does not allow you to see your worksheet before you download it, but it does allow up to 2000 characters to be printed at a time and you can view it on your computer before printing.
————————————————————————————————–
Don't forget to enter your email address in the box below so that you can get updates when new freebies are added!
Be sure to "Like" us on Facebook too!