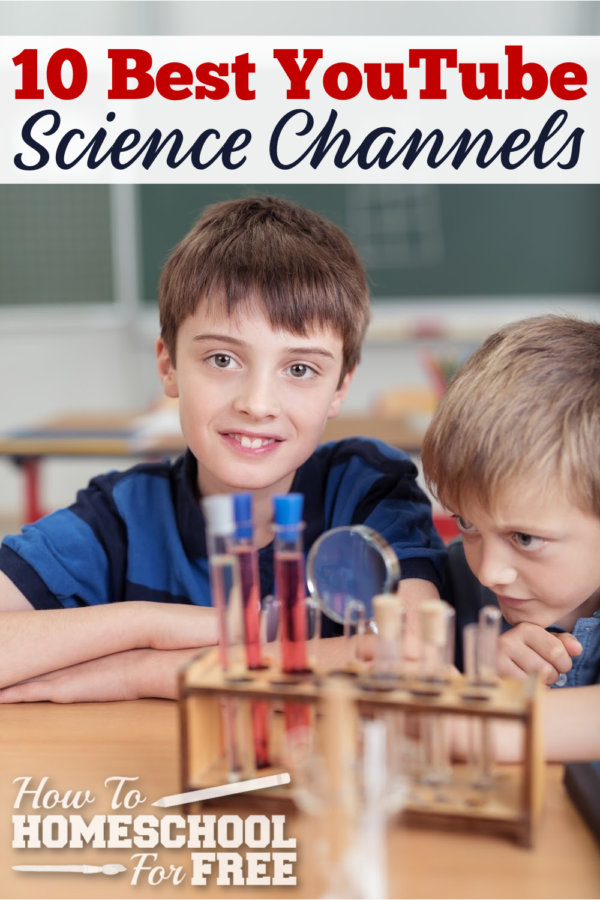 I'll admit I've had a love/hate relationship with YouTube, especially when my kids were in their elementary years. It just seemed to require more policing and filtering than I felt it was worth, so we limited it. Now that they are a bit older, and the platform has evolved some, I feel a bit better about allowing access to specific channels whose content is appropriate, especially in the realm of educational videos. There is an actual gold mine of incredible educational content! We really love supplementing our lessons with these videos, especially for things like history and science. I love it when we can immerse ourselves in a particular interest or topic and make it come to life!
Videos are an excellent way to learn more about science topics. There are times when I'd really rather not explode chemicals in my house, or dissect frogs in my kitchen, thank you very much. Check out this great list of science experiments for kids on YouTube! Many of the experiments here have step-by-step breakdowns so you can replicate them if you'd like to, or just watch and learn! But exposure to quality content like this doesn't have to be limited to experiments! We've done the research for you and compiled a list of the top 10 science channels for kids on YouTube!
Dr. Binocs from Peekaboo Kidz offers a variety of educational content geared towards younger learners. The videos are colorful and animated. Each video is relatively short making them easy additions to your existing lessons. There are many videos on illnesses and other health-related content
This channel is great! It has a large variety of videos, covering content from many subjects, not just science. Just use the search to help find what you need and enjoy!
David Newman has videos with easy-to-learn songs & lyrics to teach educational standards. I love using songs to teach concepts because the kids catch on and learn it before they even realize they do!
The Happy Learning channel has Great educational videos all mostly five minutes or less! There is also a Happy Learning Espanol channel. The videos are geared towards little learners and are often slow-paced enough to really give students a chance to absorb the content while also quick enough to keep them engaged.
Best Of Science is a fun science channel with content that covers a wide variety of science topics: physics, space, nature, chemistry, and more.
SciSchow Kids explains many science topics for kids. Their original videos explore many of the topics the kids are interested in, like paper snowflakes and oobleck. Their partner channel, SciShow, also offers many different videos you might find useful for your learning time, though keep in mind that this channel is not geared towards kids, so preview videos for relevance and appropriateness before showing.
Free School is another fantastic collection of videos. They are not all science-related, but a quick search will find you a variety of science content. Definitely a great channel to supplement your homeschool lessons!
Fun Science Demos offers videos with a focus on demonstrations to teach the content. Often, science experiments are confused with demonstrations, and these videos do a tremendous job showing demonstrations in action. They have videos for physical science: matter, force and motion, energy, sound, and light. Earth and space science topics include weather, rocks, solar system, water cycles. And life science videos about things like habitats, life cycles, the human body.
The asapScience channel uses drawings to explain various interesting topics from a scientific point of view. The topics they cover are questions people have always been asking or things you never thought about before, like: "How old are a person's ears?" "Can video games make you smarter?" "Can you be scared to death?"
Most topics are kids safe but the channel is not specifically limited to child-friendly content so some parental oversight is necessary.
Minute Physics videos explain science in a similar style as asapScience, but all topics are around physics. You will find topics like: "What is gravity?" "Is it better to walk or run in the rain?" "How is an airplane made?" This channel does a really good job explaining topics in a simple way, so it's a great learning tool for kids of all ages.
***Be sure to join our How To Homeschool For Free Support Group for daily encouragement and more great resources for your homeschooling journey!***