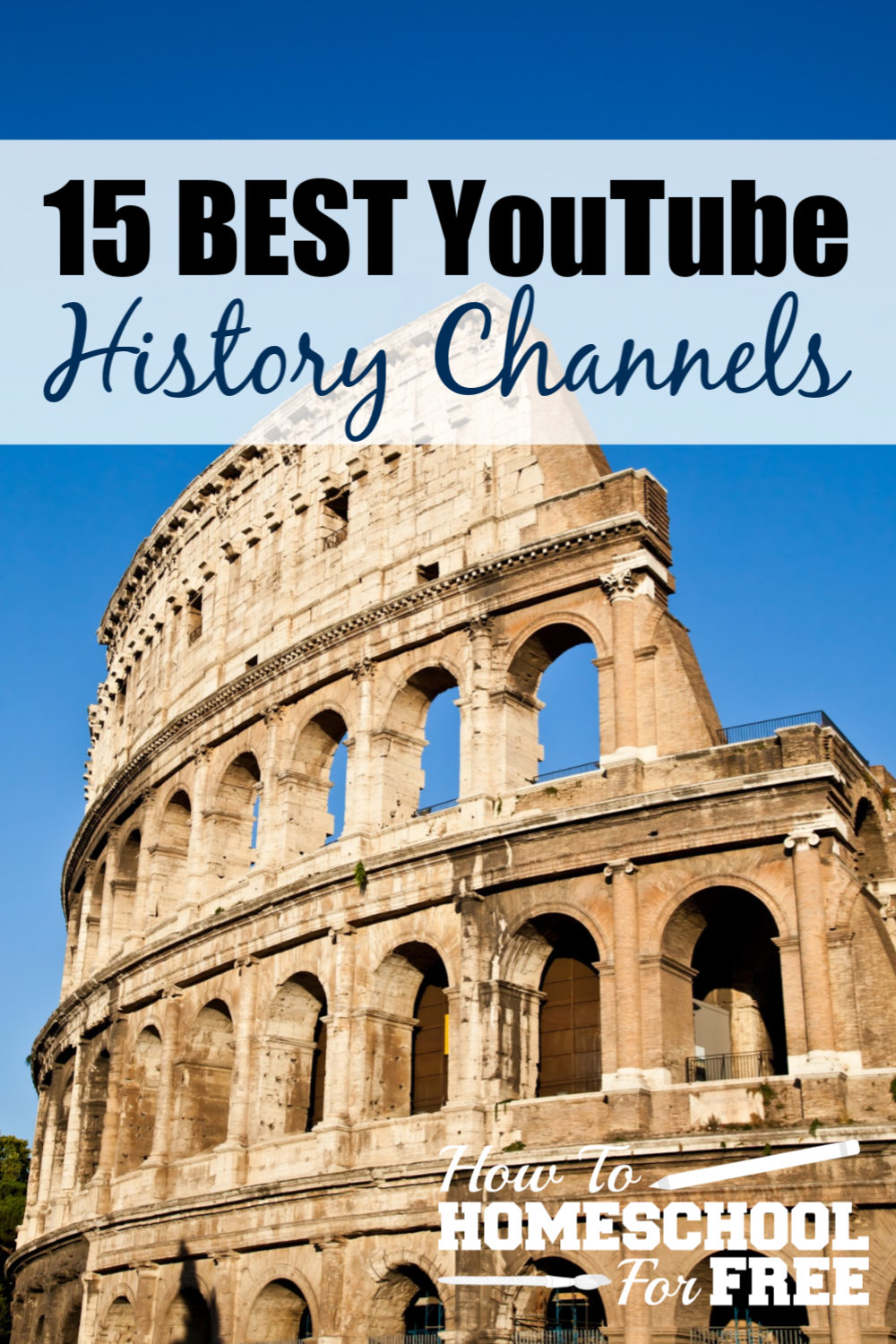 Pin this post
BEST History YouTube Channels for Kids!
I'm always searching for ways to supplement my kids' education. One of the most amazing aspects of teaching them is that I'm always learning! I get excited when we find material to enjoy together. History is one of those subjects that our family is very passionate about and that we can't get enough of.
Fortunately for us, there are channels on YouTube with dedicated historians and educators, creating incredible content for us to enjoy, all a few clicks away!
Disclaimer
Some of these channels contain strictly history-based content, and some of them include videos on a range of topics. We have found a number of these channels helpful to reinforce the subjects we are covering. But for the sake of propriety, it must be stated that we don't necessarily endorse all content on every channel. As with all things, we use our best judgment in determining appropriate content for our family.
Here are our top 15 history channels!
1 Crash History
A long time favorite in our house, Crash History is created by brothers Hank and John Green (yes, The Fault in our Stars, John Green!) There are TONS of videos on this channel, covering topics in US and world history. And you'll learn a lot about the Mongols. They are super important and Crash will tell you why. Featuring cute "Thought Bubble" animation that helps bring history to life, these 10-15 minute videos are a great addition to your lessons.
2 History Videos for Kids from Clarendon Learning
Clarendon Learning is a non-profit that produces educational material and resources. Their YouTube channel offers videos on a variety of subjects and their history videos are super informative.
3 Disney – American Presidents
Leave it to Disney to seamlessly combine entertainment and education. These videos are a mixture of documentary-style information and fun, cartoon reenactments that help you remember the important stuff.
4. Feature History
These videos include topics covering everything from the Mongols to the evolution of military 4×4's! Fun animation and slightly more graphic content make this channel perfect for history buffs 13 and up.
5 John D. Ruddy
With a lovely Irish accent, John D Ruddy covers historical events in a standard lecture format, sprinkled with a fun animation style that's both educational and enjoyable.
6 WWI Uncut on BBC
This is a deep dive look at The Great War, brought to life beautifully by the BBC. WWI Uncut explains why trenches were so important to fighting men, as well as hardships other than bullets that soldiers faced.
7 Epic History TV
Truly epic and styled more closely to documentaries and shows on the History Channel, Epic History TV focuses on the most dramatic events and people, from WW2 to Blackbeard the Pirate. 15-20 minute videos are packed full of maps, graphics, and details about the major events from history
8 Schmoop
This strangely named channel has lots of really fun videos that your students will love. The kid-friendly format is great for younger students while engaging older ones (moms too!)
9 Simple History
Ideal for teens and adults, these videos feature graphic novel type animation. Some videos include more graphic images so these are best enjoyed by ages 13 and up.
10 Khan Academy
With free curriculum, videos and resources, Khan academy is a staple in many homeschool households. Their YouTube channel offers history videos on topics ranging from ancient Egypt to the Vietnam war and everything in between. This is an excellent resource for all things history and much more!
11 Homeschool Pop
Aimed at elementary-aged kids, this channel is full of great videos about landmarks, the White House and the 50 states. This is another great place to find videos about everything your elementary student is studying right now!
12 The Touring Teacher
This channel is similar to Mr. Betts Class in that the instructor travels to lots of places and talks about them. This one is aimed at younger kids and provides great insights into life in different historical periods.
13 Kids Academy
This is another great resource for younger kids, featuring a wide range of topics in multiple subjects. Kids Academy history topics include videos about American inventors, the Civil Rights Movement and the Journey to Jamestown.
14 A Kid Explains History
This one might be my favorite! Mr. Q is your teacher and he's got videos about all kinds of stuff. He's 12 now, but he's an old pro at adorably and accurately explaining history for your educational enjoyment.
15 Free School
Featuring videos about Harriet Tubman, The US Constitution, and many more, Free School is kid-friendly and full of facts to help supplement what your kids are learning.
***Make sure to join our How to Homeschool for Free Facebook Support Group for daily encouragement and more great resources for your homeschooling journey!***