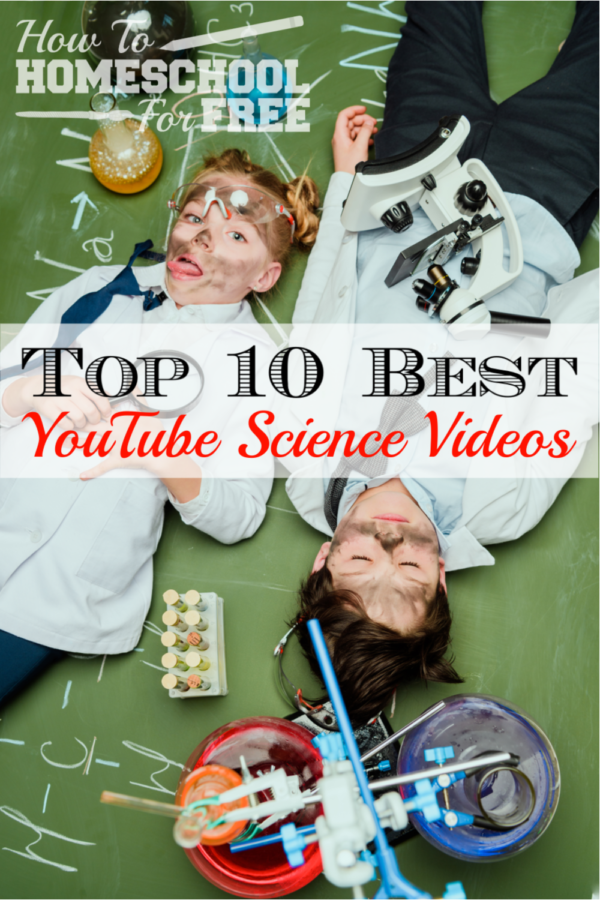 Pin the post
I love the flexibility to teach my kids in non-conventional ways. Sometimes that means "going" on
virtual train rides.
Sometimes it means
YouTube history lessons
! We are constantly on the hunt for different ways to introduce or reinforce concepts and information. So I'm really excited about this particular collection of really cool science videos! There are so many experiment ideas for you to try with your kids, using mostly everyday items from your pantry or garage. Plus, they are fun to watch!
Safety Disclaimer: We have selected experiment videos that are kid-friendly, but some of the other content on the channels mentioned may not be child-appropriate, or safe enough to do in your home. So, as with all content on YouTube, adult supervision is recommended.
1. Twenty-five COOLEST Science Experiments You Can Do at Home by Spacebound
From crystal egg geodes to "fairy jars" made from glow sticks and glitter, this collection of experiments is neatly condensed to one video and will definitely give your little scientists plenty of cool ideas to try at home!
2. Thirty-one Simple Experiments by 5-Minute Crafts
5-minute crafts is a fantastic channel, chock full of super interesting and fun things to do, using everyday items you already have lying around. This video gives you 31 different experiment ideas and it's just fun to watch!
3. Easy Experiments You Can Try at Home by 5-Minute Crafts Family
In the same vein as #2, this video has fun things to try, using everyday items that are easy to find. It's sure to give your family some great ideas!
4. Sesame Street Science by 5 Facts
5 Facts channel is a really neat channel with videos about science, history and pop culture, all made to be funny and engaging to young viewers. Their sesame Street Science videos have gems like 5 Fun Science Experiments for Kids with Grover, and 5 Hidden Worlds Revealed Under a Microscope
5. Five Mind-Blowing Food Science Experiments to do in the Kitchen by The Dad Lab
The Dad Lab is another great find! The entire channel is full of fun experiments and tricks to do with kids. I love kitchen experiments because clean-up is easy!
6. Thirty-three Science Experiments That Will Amaze You by 5-Minute Magic
Another fun collection of easy experiments to do with 'round the house items. You can even make your own magic sand in a cup!
7. Ten Easy Science Experiments That Will Amaze Kids by Raising Da Vinci
With another fun video full of easy, kitchen experiments Raising Da Vinci is another great source of kid-friendly content and fun things to learn.
8. Ten Amazing Science Tricks Using Liquid by Brasspup
Brasspup is a super interesting channel with all kinds of science-themed videos. Check out these cool videos with anamorphic illusions! I especially loved these 10 amazing science tricks using liquid!
9. Awesome Science Tricks Using Static by Brasspup
Another stand out video from Brasspup, this one is all about static electricity and all the fascinating ways you can use it!
10. Top 10 egg Tricks and Experiments by Mr. Hacker
There are so many cool videos featuring all kinds of neat experiments and tricks here. This video with fun balloon tricks is awesome. But the egg tricks video is extra exciting and fun to watch! Just don't try that exploding eggshell trick in your kitchen!
Have fun with your rubber eggs and color-changing paper towels, and be safe!
***Be sure to join our How To Homeschool For Free Support Group for daily encouragement and more great resources for your homeschooling journey!***