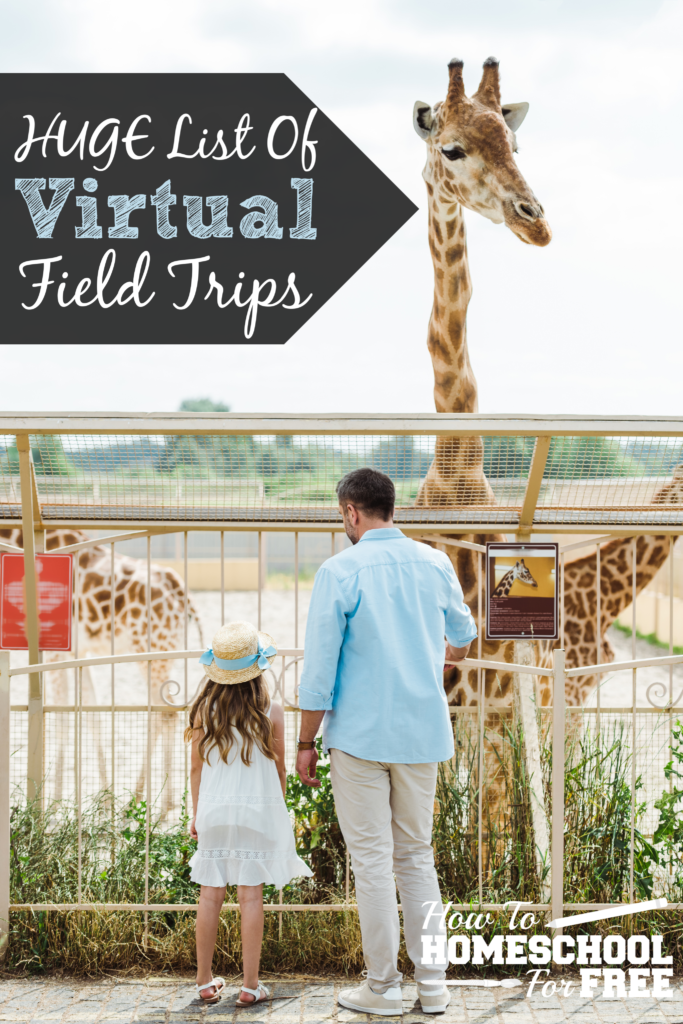 Online FREE Virtual Field Trips!
With the shutdown of schools across the country (and world), pretty much everyone is now homeschooling in one way or another. Whether you normally do public, private, or home schooling, everyone has been affected by the inability to do one of our kids' favorite school activities: field trips.
(And make sure to join our How to Homeschool for Free Facebook Support Group for daily help, freebies, encouragement, and more to support you in your homeschooling journey!)
So either voluntarily or due to circumstances, we're all homeschooling right now. For those who are not used to homeschooling, we want you to know that there are a plethora of ways to homeschool that will greatly aid you in your new journey. And fortunately, you can also add field trips to your list of homeschool activities! How?
Virtual field trips!
From virtual trips to the zoo (including live animal and sea life cams!), national parks, space museums, and even a field trips to Mars, there are an amazing amount of online field trips you can take your family on right from home!
Here is a list of some of the best online virtual field trips available. Please let us know if you know of any other great ones that are not on this list and please share this post with any friends you think may be interested!
And be sure to bookmark this page and check back as we will be updating this list over time.
How to use Essential Oils!
If you've been considering essential oils be sure to check out this great post on How to Use Essential Oils to guide you in your journey!
Outer Space
Why not visit another world from the comfort of your home? With these interactive virtual tours, you can explore the galaxy and even take a trip to the International Space Station!
***Make sure to join our How to Homeschool for Free Facebook Support Group for daily encouragement in your homeschooling journey!***
National Parks
Yellowstone National Park actually has SEVEN different virtual tours available that would make for great virtual field trips.
Fort Yellowstone
Fountain Paint Pot
Grand Canyon of the Yellowstone
Mammoth Hot Springs
Mud Volcano
Norris Geyser Basin
Yellowstone in 3-D
Yosemite National Park has an incredible interactive virtual tour available of many areas of the park including:
Diving Board
Tolumne Meadows
Nevada Falls
Ahwahnee Hotel
Swinging Bridge
Hetch Hetchy
Live Animal Cameras
This is a fun way to see what's going on at the zoo LIVE without going to the zoo! Check out these live animals cams from several different zoos as a fun way to observe wildlife from home.
Farm Tours
Farm Food 360 has ELEVEN different tours of various aspects of farming to give you a unique look into the world of farming. Here are the tours they offer:
Milk and Cheese
Dairy Cow Farms
Grain Farms
Sheep Farm
Mink Farm
Egg Farm
Egg Processing Facilities
Canadian Feed Mill
Oat Farm and Processing
Apple Orchard
Pig Farm
Art, History, and Science Museums
There are several amazing art museums from around the world that offer all kinds of free virtual tours!
Art Museums:
Science and History Museums:
Around the World in ZERO Days!
It's pretty clear right now that traveling the world is just something none of us are able to do. But don't let that stop you from visiting your favorite destinations with these virtual tours of famous and exotic locations around the world!
***Make sure to join our How to Homeschool for Free Facebook Support Group for daily encouragement in your homeschooling journey!***