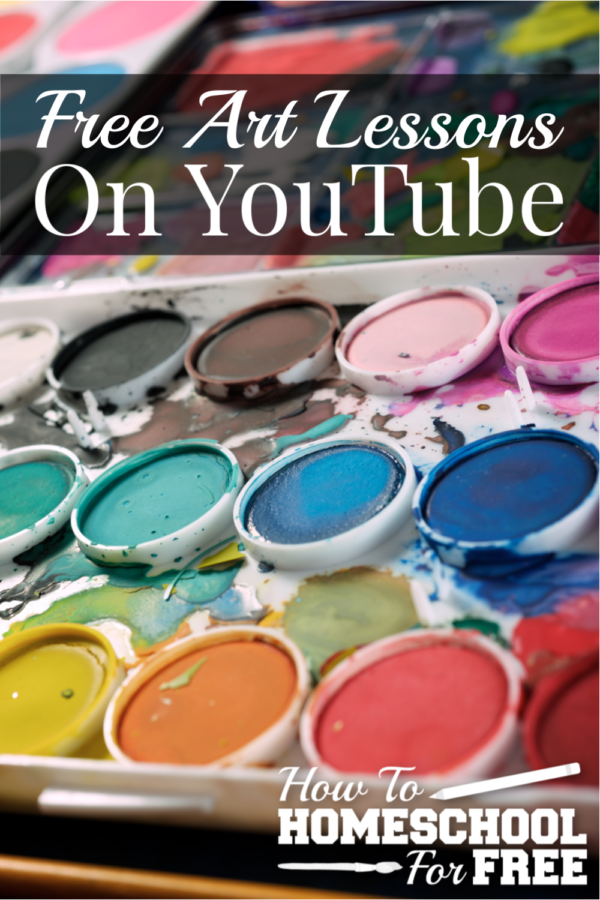 Pin this post
I don't know about you but I struggle with teaching art. Even art history is a tough one for me! I can barely draw stick figures and have next to no interest in techniques or movements. I know Da Vinci, Monet, Van Gogh, and Kahlo. But even then, I could only provide a vague description of their absolute MOST famous works. Art is not my forte and teaching it has proven difficult over the years until I found some great co-ops in my area. But when those aren't available, we get stuck in the same old art rut! Luckily for me, there are some phenomenally talented art lovers and teachers who have provided a wealth of incredible art lessons for free on YouTube! Here are just a few of our favorites.
Online Painting Lessons
Bob Ross the Joy of Painting gets the honorary first place on this list because I am writing the list and I am shamelessly biased. The stress-relieving art teacher who started it all is ideal instruction for middle schoolers on up. His painting series is also available on Netflix and I may or may not use it to fall asleep sometimes.
Createful Kids is a mom and child-friendly account with tons of tutorials on painting and some drawing. The follow-along instruction style is little kid-friendly and there are even videos to highlight some famous artists.
The Art Sherpa is an acrylic painting channel for intermediate level artists. Probably best for middle school and high school this channel features a detailed and well explained follow-along style.
Wecreate Lessons is a channel for younger kids such as preschool and lower elementary ages. It contains simple artwork in an easy-paced, follow-along style that's ideal for little artists.
Online Drawing Lessons
DrawingWiffWaffles is a creative account full of fun, follow-along videos of drawing with pens, markers, and sketching. It's geared toward upper middle school to high school level and ability.
Sinix Design is a digital artist who shares technical drawings in how-to videos with quick-moving follow-along instructions. With detailed videos for drawing tricky things like body parts, this channel is great for high school-aged kids who want to get serious and improve their drawing skills.
Art for Kids Hub is the perfect family-friendly art account for elementary and middle school. You can follow right along to draw your favorite characters and animals.
Disney Parks Animation Academy has step-by-step, how-to tutorials on all your favorite characters. These lessons are great for middle schoolers and up.
Online Art History
Free School has many interesting videos on almost all subjects. You can check out their history videos here! They feature a series of videos about major artists giving short biographies.
Online Craft Videos
Crafts are amazing for the creatively challenged, like myself because crafts count as art! And it just feels so good to create things!
5-Minute Crafts Kids channel contains hundreds of super cute craft ideas for your family. These are not follow-along videos, but they are designed for you to explain the craft and do it together as a project.
Easy Kids Craft is a fun follow-along channel that uses only construction paper and glue for all their crafts. Perfect for elementary-aged kids or when you need a craft idea for a science or history project.
Craft Factory is a fun channel with projects that are a bit more advanced than just construction paper but are perfect for families who love hands-on learning.
Art plays a pivotal role in the development of the young brain. The more art we expose our little learners to, the richer their learning environment will be! Happy learning!
***Make sure to join our How to Homeschool for Free Facebook Support Group for daily encouragement and more great resources for your homeschooling journey!***