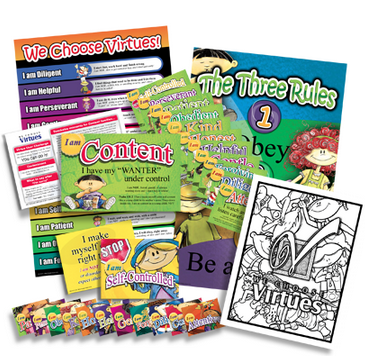 How would you like to win a full homeschool character training kit from We Use Virtues?
Check out the bottom of this post to enter!
Here's a little bit about We Choose Virtues:
Heather McMillan started We Choose Virtues out of her love for children and her desire to see them reach their personal potential. As preschool teacher and a children's pastor, it concerned her how often she came across children whose lack of self control, honesty and perseverance was almost debilitating. How could they succeed in life without the skills that come from good character?

Many grade school teachers she knew admitted that it sometimes takes from September to winter break for their students to follow even the simplest classroom instructions. This crisis in personal character seemed to be obstructing the learning process for their entire classrooms.

As her passion continued to grow, she realized that she wanted to teach children how to change. Not just a momentary change of actions, but a more lasting change in their attitudes as well. Her observation is that children needed to be inspired by simple, positive and consistent instructions, and parents and teachers needed an effective language with which to communicate these instructions.

It was out of this necessity that Heather created the original list of virtues and their unforgettable catchphrases. She used them at home with our four children, taught them in her own Preschool classroom, introduced them to fellow teachers, parents, and professional counselors. They were enthusiastically received and the results were outstanding.
If you're interested in winning the full homeschool kit, just fill out the information below to enter the giveaway!
There are also a couple of freebies on the We Choose Virtues site that you might guys might be interested it!
Here's how to get them:
1. Head over to the We Choose Virtues site.
2. Click on "SHOP HOME" and then on "For Homescholers"
3. Scroll down to the bottom of the page where all of the products are listed and you'll see two freebies: a printable sheet with memory verses, bible heroes and truths & a printable for a family character assessment.