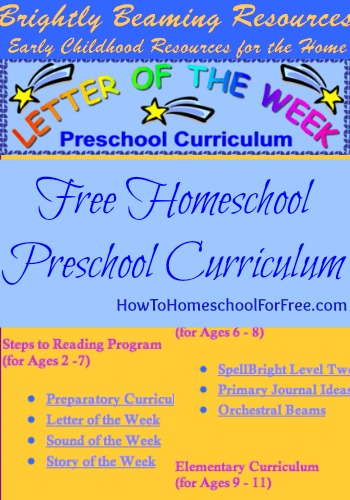 Brightly Beaming Resources is a full and totally free curriculum for preschool age up to age 11. Brightly Beaming Resources is home to a very popular preschool curriculum called Letter of the Week. Letter of the week works exactly how it sounds… you learn one letter per week with your preschooler and Brightly Beaming Resources gives you the lessons, activities, and book lists.
For the older kids there is also Science of the Week, Spellbright Spelling Lists, Country of the Week, Journal Prompts and more. You'll also find a really great program for 9-11 year olds called Blazers of Greatness that takes them through studying popular heroes and heroines like Albert Einstien, George Washington and others.
Go here to check out Brightly Beaming Resources.
For more free online Full Curriculum resources, check out our FREE Full Curriculum Options Resources page!