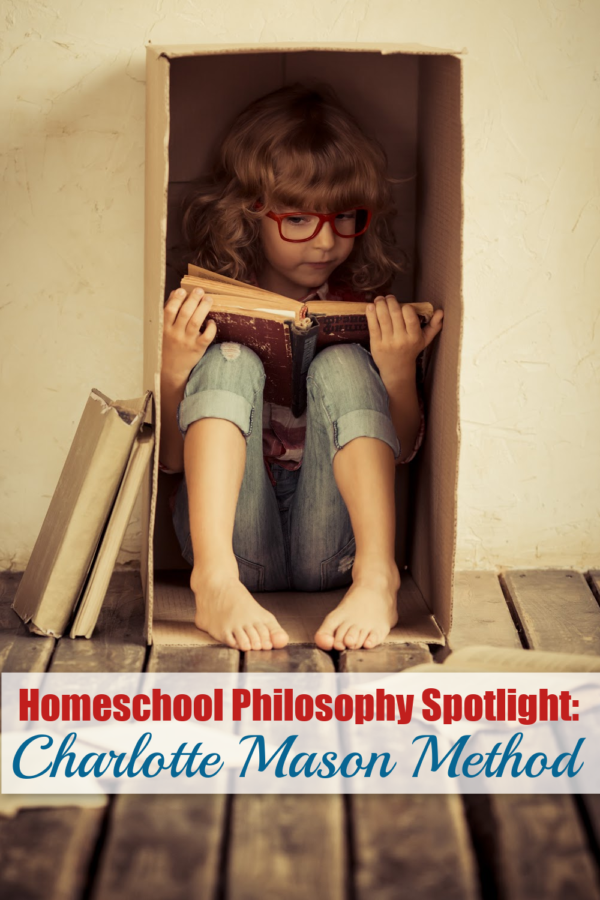 If you're a new homeschooler, you might be surprised to know that there are several different methods or styles of schooling at home. Or maybe you've heard of Charlotte Mason or Classical methods and like me, wondered what in the world they were! I was completely clueless when we began homeschooling years ago. It can be a bit (or a-lot) overwhelming at first!
So what is the Charlotte Mason Method?
Charlotte Mason was a highly respected British educator of the nineteenth century. She believed in teaching to the whole child and that all learning should be delightful, which was quite progressive for her time. She stressed that lessons should be done in short periods of time, preferably 15-20 minutes for elementary aged students and 45 minutes for high school.
The Charlotte Mason method is based on Charlotte's firm belief that the child is a person and we must educate that whole person, not just his mind. So a Charlotte Mason education is three-pronged: in her words, "Education is an Atmosphere, a Discipline, a Life."
A 3 Pronged Approach
By "Atmosphere," she meant the surroundings in which the child grows up. A child absorbs a lot from his home environment. Charlotte believed that the ideas that rule your life as the parent make up one-third of your child's education. By "Discipline," she meant the discipline of good habits—and specifically habits of character. Cultivating good habits in your child's life make up another third of his education. The other third of education, "Life," applies to academics. Charlotte believed that we should give children living thoughts and ideas, not just dry facts. So all of her methods for teaching the various school subjects are built around that concept.
For example, Charlotte's students used living books rather than dry textbooks. Living books are usually written in narrative or story form by one author who has a passion for his topic. A living book makes the subject "come alive." This methodology was designed to be child–led and includes observation with nature, picture studies, narration, memorization, art and music appreciation, poetry, and handicrafts. There is an emphasis put on reading literature from classics, living books, and biographies.
Making It Work For You
This method is easy to implement. Many parents who feel they aren't qualified to teach a comprehensive curriculum find this approach more manageable. It allows for a lot of flexibility with the child's interests and ability. It's inexpensive and children can move along at their own pace. Because this was developed in the nineteenth century for children who were taught by tutors or their nannies, it was primarily geared towards the elementary level. Parents may find as children reach high school age is it more difficult to attain the same level of education for today's standards. Supplementing with other materials that are not Charlotte Mason influenced can be a solution. Science and math are also areas that are not focused on as heavily and parents may desire to add some supplemental materials for these as well.
This is a gentler homeschooling style that is more laid back and allows interest-led learning. The smaller time periods for learning are quite effective and keep students motivated. You'll be surprised what your child can learn in short spurts.
Ambleside and An Old Fashioned Education are FREE, online, Charlotte Mason method curriculum. You can also find the Charlotte Mason book series on amazon. There are also several resources to buy Charlotte Mason or Charlotte Mason inspired curriculum at Queen Homeschool, Alveary, and My Father's World.
As with all things, there are pros and cons, but this method is beloved by homeschoolers the world over! Now that you have some foundational information, I definitely encourage you to dig a bit deeper to see if this style is right for your family! Happy homeschooling!
Not sure what your homeschooling style is?
Take the Homeschool Philosophy Quiz and see which method is right for your family!
Check out the other methods in our Homeschool Philosophy Spotlight Series.
***Make sure to join our How to Homeschool for Free Facebook Support Group for daily encouragement and more great resources for your homeschooling journey!***