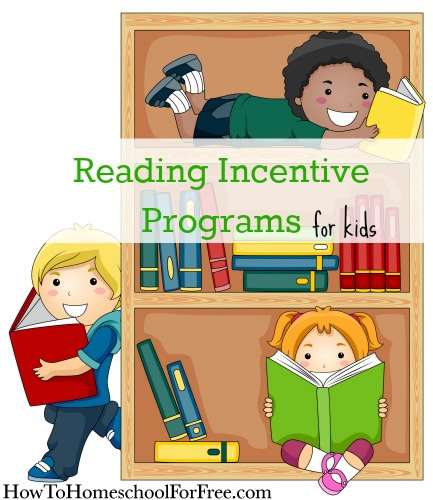 There are lots of great reading incentive program for kids! All of them are completely free and some of them are available all year long.
Summer Reading
Your local library is very likely to have a program for summer reading. Some are huge events, some are smaller, but I've found that my kids enjoy either kind. They mostly enjoy seeing friends & making new ones.
Barnes & Noble gives your child the opportunity to earn a FREE book (from a selected list) after reading 8 books.
Scholastic Summer Challenge begins May 1st every year. Kids read, log their hours, and spin a wheel for prizes.
Year-Round Reading Incentives
Book Adventure is Sylvan Learning Center's FREE reading incentive program. Your child reads a book, then takes a simple comprehension quiz to earn points. There are hundreds of books to choose from in all reading levels, and they are usually books that can be found at your local library. Once they have earned enough points they can trade them in for some really cool prizes!
B&N has monthly book clubs for kids. Typically, you will find a book club for school-aged kids and a Storytime for the preschoolers. Click the link to see if there is one near you. They also have a free Kid's Club reward program with free cupcakes on birthdays and other fun stuff.
Chuck E. Cheese has a year-round certificate available. Parents print out the form here and turn it in after reading is completed to a Chuck E. Cheese restaurant for free tokens. There are other incentives on their website as well, but only one reward per day, per child.
Pizza Hut Book-It is not just for Public School Kids. Homeschool families can register and get in on the free pizza action, too. Check it out and register your K-6th students today.
If you are a part of a Home School organization, you can register the group for Braum's Book Buddies. A reading incentive for grades 1-5 during the school year. You must register as a group (unless something has changed in the last year or so). Kids can read books and earn ice cream treats.
Regional Incentives
Local Bank Incentives
There aren't links for it, but sometimes a local bank will offer a $5 or $10 deposit for reading challenges. It wouldn't hurt to call your bank or credit union and ask!
(in CT, MA, NJ, NY, OH, and RI only)
Bookworm Wednesdays entitles kids to free admission to a select children's film when they present a book report at a participating Showcase Cinemas, Multiplex Cinemas or Cinema de Lux box office. Accompanying parents or guardians and children under six receive free admission and do not need to submit a book report.
Click on Clubs & Contests on the left side of the screen. Then click on the red Join Now! button at the bottom of the screen. A PDF file will open that will include the HEB summer reading program reading log.
Print out the reading log and record 10 books that are read over the summer. Follow directions on the form and you will get the fun prizes they have for your kids.
Last, but not least, the Six Flags Read to Succeed program is popular for those who live within 100 miles of a Six Flags Amusement Park. Students in grade K-6 can earn one ticket for free admission into a Six Flags park. Each family registers and follows the guidelines. You will get your tickets via email in May. The tickets are usually valid from mid-June to early in August.
Happy Reading!