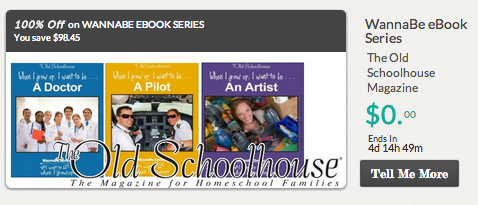 Head over to Educents and scroll down about halfway to see their completely FREE offer today! You can get all 12 eBooks in the WannaBe eBook series!
There are also lots of other great deals over on Educents today (this is the only free one) so you may want to check those out while you are there if there's something specific you are looking for.
Click here to get the free eBooks!
Here's a little more about what's in these eBooks:
Are you looking for real-life spiritual mentors and heroes for your children? Do you want to help them explore the world of opportunity around them and maybe spark their interest toward a special calling? You'll love this multi-age unit study from The Old Schoolhouse that encourages the learning of basic subject skills and inspires creativity while focusing on a particular, exciting occupation. Expose your children to a selection of the many possible career choices available today, complete with activities that will make learning fun for your entire family" and all from a Christian worldview!

Who is it for?

Geared towards the 8-13 year-old age range
Special activities included for younger children
What is included?

The Old Schoolhouse WannaBe Series includes:

I Want to be an Artist
I Want to be a Chef
I Want to be a Doctor
I Want to be a Farmer
I Want to be a Firefighter
I Want to be a Police Officer
I Want to be in the Military
I Want to be a Missionary
I Want to be a Pilot
I Want to be a Veterinarian
I Want to be a Video Game Designer
Disclosure: I am an affiliate with Educents and make a small percentage off of the purchases through my link. Obviously since this is a free offer I will not make anything, but I'm still using my affiliate link in case you find other items you would like to get.
(Thanks, Free Homeschool Deals!)